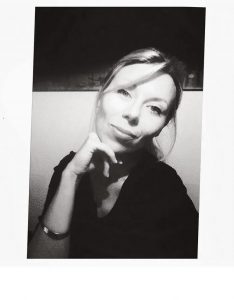 KAMILA KRAUS
Abstract painter, visual artist. Her paintings and photographs gained international recognition among art lovers, New York, Madrid, Vienna, Sydney. In 2006 Kamila graduated the Faculty of Arts Institute of Visual Arts University of Zielona Góra in Poland, with a Master of Fines Arts degree in painting and photography. In her creative process she has lately cooperated with Natalia LL – Polish intermedia conceptualist artist. Next to fine arts, she is also heavily involved in songwriting, music production and performing as a singer. In 2010 she debuted with her music album "Brajlem" / "Written in Braille", accompanied by a booklet of lyrics written entirely in Braille – a pioneer idea on the Polish music market. This unique project was co-created with a number of talented artists.  During her music career Kraus worked with Polish actors, directors, choreographers and musicians at The Musical  Theater "Capitol", i.e. with jazz pianist and composer – Leszek Możdżer.
Painter is currently working with Polish art galleries among others Flow Art House – Fabryka Norlina in Warsaw, Art Gallery and Auction House Piękna Gallery (Warsaw), where you can purchase her selected paintings among the most outstanding Polish artists, Tadeusz Kantor, Teresa Pągowska, Stanisław Fijałkowski, Henryk Stażewski.
Kraus works are in private collections in Poland and abroad.


"Ab Astris" / "From the stars"
I have the element of heaven and the element of earth in me.
An element of sea and sand, the scent of a rose, tanned skin, rain.
The whistle of bird flight and the hum of bustling streets.
Silence mountain views. The element of the cosmos, music of the spheres of dialogue.
An element of urban life and a country road that is soothing in its simplicity.
I am looking in nature, in a constant creative process, I see.
Light, tones, midtones, shapes, sounds, energy. Everything is.
– What is movement for you?
Everything is in constant progress.
– What is art for you?
Art brings vibration to space, it has its own frequency.
Using the metaphor with passion and commitment, I transfer it into a canvas in an abstract form.
Painting – artwork is like a written chapter of a book, and sometimes the entire content of it.
It's like a journey to the farthest corner of the world.
Kamila Kraus