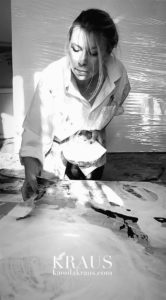 KAMILA KRAUS
Abstract painter, visual artist. Her paintings and photographs gained international recognition among art lovers. In 2006 Kamila graduated the Faculty of Arts Institute of Visual Arts University of Zielona Góra in Poland, with a Master of Fines Arts degree in painting and photography. In her creative process she has lately cooperated with Natalia LL – Polish intermedia conceptualist artist. Next to fine arts, she is also heavily involved in songwriting, music production and performing as a singer. In 2010 she debuted with her music album "Brajlem" / "Written in Braille", accompanied by a booklet of lyrics written entirely in Braille – a pioneer idea on the Polish music market. This unique project was co-created with a number of talented artists, among them an actor Wiktor Zborowski.  During her music career Kraus worked with Polish actors, directors, choreographers and musicians at The Musical  Theater "Capitol", i.e. with jazz pianist and composer – Leszek Możdżer.
In 2016, at the invitation of the Quadrilion Art Gallery in Warsaw, with which she currently cooperates, she took part in the exhibition of painting, "Love is the desire for beauty" among the works of twenty-one outstanding Polish artists, including Kiejstut Bereźnicki, Andrzej Pągowski, Franciszek Starowieyski, Józef Wilkoń. A year later, in 2017, she participated in the auction "Young talented" at the Piękna Gallery – a gallery which in its collections has works, among others a prominent Polish artists Teresa Pągowska, Edwarda Dwurnika, Wojciech Fangor, Stanisław Fijałkowski, Stefan Gierowski, Tadeusz Kantor or Henryk Stażewski.
Painter is currently working with Piękna Gallery, where you can purchase her selected paintings.
Kraus works are in private collections in Poland and abroad.